I joined the
Sew

Sara

Scrap
Swap
here
and have received all my scraps.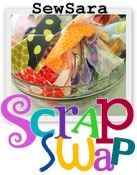 They are all treasured! I have been given the most beautiful rainbow of scraps from the greatest swap partners ever!!!! Here is what I received:
WOW!
Thank you so much, Riel, Debi, Jennifer, Becki and Robin. These lovely ladies were very generous and I couldn't be more thrilled with the beautiful variety of color I received. They came from New Brunswick, Canada and from Louisiana, Arizona, Michigan and Alabama in the US.
I am going to try my hand at the Bottled Rainbows Quilt. Check out the QAL
here
at Stiched in Color.
With all of these treasures, it will be gorgeous.